Would you like straight-forward actionable teaching techniques and resources that will help you teach children more easily and effectively?
Well you're in the right place.
You and I know that teaching children effectively is hard work.
But we also know it is one of the most rewarding callings out there.
Our husband and wife team created Teacher's Notepad to provide insights and useful actionable strategies on teaching effectively to fellow teachers around the World. Teaching is a passion with tangible rewards for everyone involved – it changes lives every day.
We're drawing on 16 years experience of teaching children aged 5 – 10, and thousands of children and parents have seen the direct benefits of the practical techniques that we are here to share with you.
Take a look around our site at the thousands of free unique resources and printables we've created and shared with our community here.
We've got everything from our beautiful easy grader and other online tools, to picture writing prompts for 1st or 2nd grade through to middle school students. And if you haven't already, make sure you check out our thousands of writing prompts on all sorts of topics – we've even got several free random story starter generators we've built for you to use 🙂
Side note – we've noticed some of you are arriving on our site were looking for actual notepads for teachers, well good news, we've got you covered now too!
Make sure you bookmark the site and check back soon as we're adding new resources constantly.
We'd love to hear from you if you have any feedback, questions or suggestions on future guides or resources.
– Matt & Hayley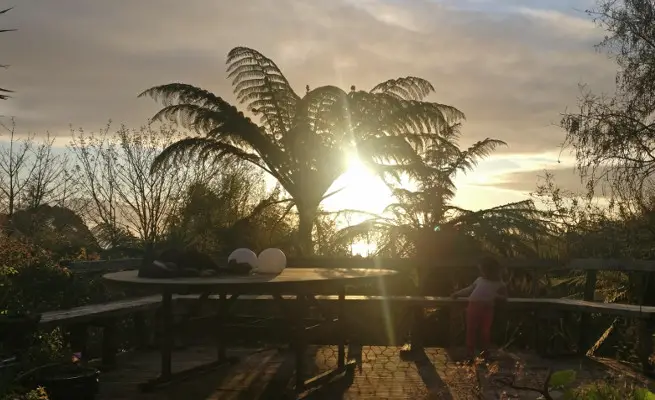 PS – here's a little glimpse into a magic moment in our family's life…
We spent some time recently at an amazing rustic AirBnB right next to Paparoa National Park on the West Coast of New Zealand.
Our little daughter (only around 20 months at the time) couldn't get enough of the frog ponds and dense population of native birds on the property.
I actually also took some audio recordings on this trip – of the frogs, birdlife, torrential rain and nearby rivers – some beautiful sounds in there.
I'll share them here soon for our community to check out, if you're interested?